HEAD 19 Meeting
Overview
19th Divisional Meeting of the High Energy Astrophysics Division
Omni William Penn Hotel, Pittsburgh, PA
13 – 17 March 2022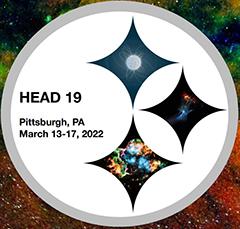 Download the Meeting Overview
---
Registration closed on Tuesday, 8 March. There will be NO ONSITE registration.
---
Upload Your Poster
Upload Your Poster / Instructions
---
The city's St. Patrick's Day parade will impact attendees arriving midday on Saturday, 12 March. Please be mindful of changes in traffic patterns and road closures. 
There has been enormous progress in our field since our last face-to-face meeting in Sun Valley in March, 2019: the launch of SRG and the completion of the initial all-sky X-ray surveys from eROSITA and ART-XC, precise constraints on the neutron star equation of state by high precision X-ray timing with NICER and gravitational wave observations with LIGO-Virgo-KAGRA, and the release of the 2020 Decadal, pointing the path to future advances in our understanding of the high-energy Universe.
The 19th Divisional meeting will take place at the William Penn Omni, 13-17 March 2022, in Pittsburgh, PA. The Omni is a beautiful historic (and supposedly haunted) hotel which, since 1916, "played a starring role in the city of Pittsburgh, hosting movie stars, politicians, heads of state and leaders of business".
We look forward to seeing everyone in Pittsburgh!
AAS Coronavirus Conference Policy
The mission of the AAS is to enhance and share humanity's scientific understanding of the universe as a diverse and inclusive astronomical community. This mission, combined with our values guides us to ensure the most inclusive, welcoming, and safe environments at our scientific conferences.
Full and up-to-date coronavirus vaccination (primary + booster) has been repeatedly shown to be safe, highly effective at preventing serious illness and death from the coronavirus and adds significantly more protection than natural immunity alone. Although infection and reinfection are possible even in those fully vaccinated or recovered from infection, serious illness and death are significantly reduced through full and up-to-date vaccination compared to both the unvaccinated and those recovered from infection.
Given the overwhelming impact of the coronavirus on the world population, with more than 920,000 people dying from the virus in the US alone, the Board of Trustees believes that full and up-to-date vaccination, combined with prudent safety measures sensible for the time and place of the event, are the best way to deliver the safe environment due to all our attendees, exhibitors, vendors, and staff.
HEAD 19 Deadlines
Special Session & Town Hall Deadlines
Thu, Dec 2: Town Hall acceptance letters sent out with catering menus and order form
Mon, Dec 13: Special Session results sent out
Abstract Deadlines
Mon, Dec 13: Regular abstract deadline, 11:59 pm ET
Mon, Dec 16: Late abstracts open, 8:00 am ET
Tue, Jan 4: Late abstract deadline, 12:00 pm ET

Registration
Fri, Jan 14: Early registration deadline
Sat, Jan 15: Regular registration begins
Wed, Feb 16: Regular registration deadline
Wed, Feb 16: Presenter registration deadline
Thu, Feb 17: Late registration begins
Tue, March 8: Last day to register. No Onsite Registration.

Hotel Reservations Deadline
Fri, Feb 25: Hotel reservations deadline

Splinter Deadlines
Tue, Sep 14: Splinter site opens in Mira
Mon, Dec 13: Splinter proposals deadline
Tue, Dec 21: Splinter acceptance letters sent with catering form
Tue, Jan 18: Splinter & Town Hall catering requests due
All billing is processed after the meeting, and takes 8-12 weeks. A final invoice will be sent to the email address that you provided in the splinter meeting proposal. At that point the invoice can be paid by AmEx, VISA, MasterCard, or check.