7 September 2022
AAS 2022 Membership Directory Is Online and Available to Members
Ruth deButts
American Astronomical Society (AAS)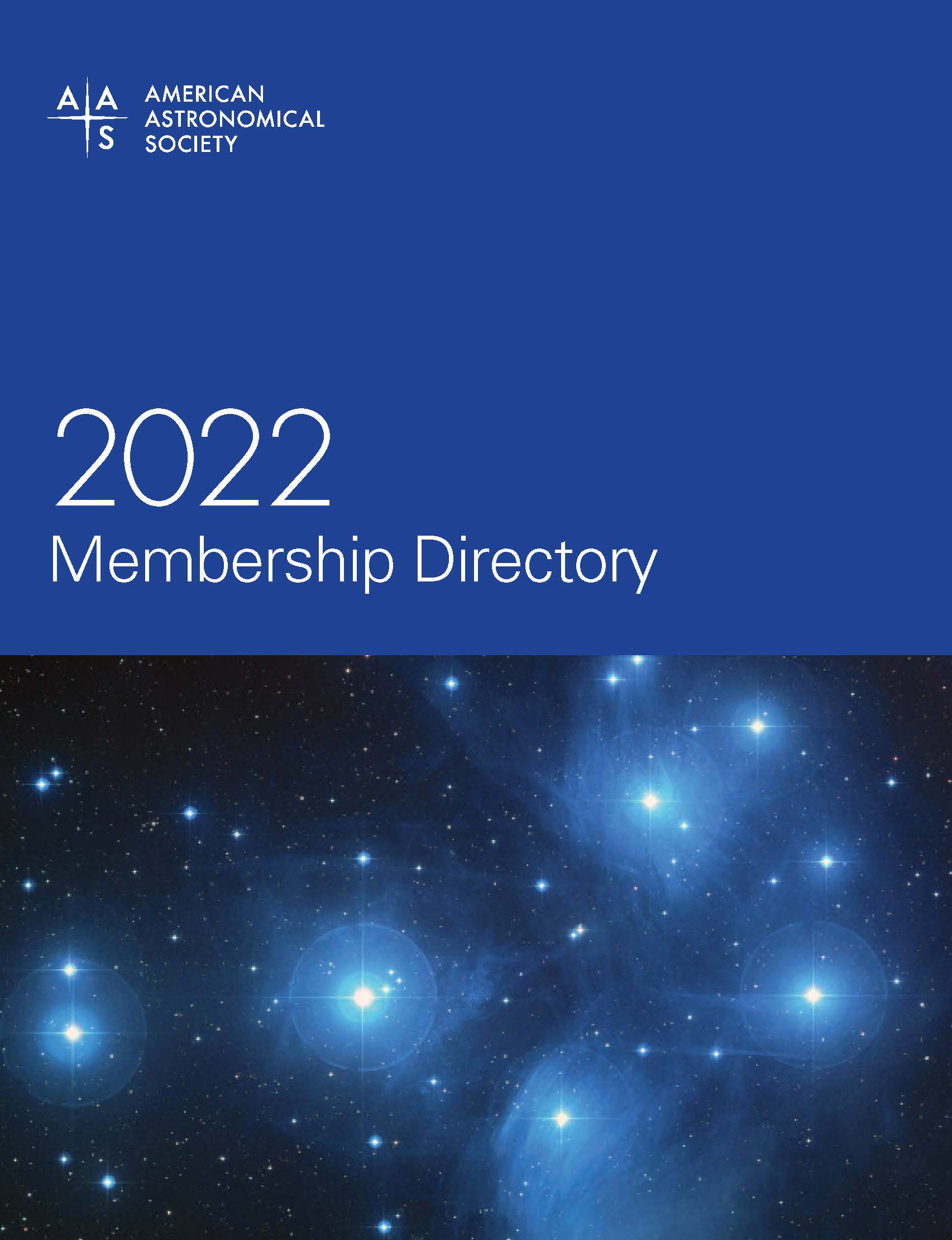 Among the many benefits of membership in the AAS is a complimentary copy of the paper edition of the AAS Membership Directory, which is published annually by the AAS Executive Office for distribution to all members of the Society.

The directory contains a lot more information than the electronic directory, which exists online as a searchable database of individual members. A section of front matter consolidates key information about the Society that is scattered across many different pages of our website. Among the highlights:
Board of Trustees
Executive Office Staff
Mission & Vision Statement
Ethics Statement
Anti-Harassment Policy
Articles of Incorporation & Bylaws
Prizes & Prize Recipients
AAS Fellows
Honorary Members & Patrons
Corporate Members
There is also information about all our Divisions, Committees & Working Groups, and Media Relations, as well as descriptions of the various programs and activities managed by these groups or by the Executive Office.
The rest of the directory consists of listings of individual members broken down as follows:
Individual Members (alphabetically by last name)
US Members (by state/city)
International Institutions (by country)
Many members tell us that these listings are an invaluable resource and that much of the information compiled on those pages can't be found anywhere else. Many also tell us that they are excited to receive the paper edition in their mailboxes. For the 2022 edition, we have contacted the eligible members who have requested a print directory to confirm their mailing address. If you would like to get a copy of the printed directory and didn't receive the confirmation and are eligible to receive one (limited to current Full, Emeritus, Graduate Student, Undergraduate, Alumni, and Educator affiliates in the United States), please email membership@aas.org and include your preferred mailing address.
Membership Directory Disclaimer
The AAS maintains its membership directory to facilitate member interaction and to support the conduct of official Society business. The AAS expressly prohibits the use of this information for any other purpose, including commercial, political, or promotional (marketing and sales). The membership data may not be downloaded, republished, resold, or duplicated, in whole or in part, for any of these purposes. Violation of this policy may subject the AAS member to sanctions up to and including permanent revocation of AAS membership.
If you wish to notify the AAS of violations of this policy, please contact us at privacy@aas.org.
The AAS does not guarantee the accuracy, completeness, or timeliness of the information contained in the Membership Directory. If you wish to update your information found in the Membership Directory, log in to my.aas.org/services and update your member profile. 
Members may opt out of being listed in the online and print directories. Accordingly, some AAS members may not show up in directory listings or searches. To opt out of your current online listing or future print directory listings, please go to my.aas.org/services and update your preferences under "My Account."
When you click the button below, you'll be taken to the AAS members' website, where you'll be able to download the Membership Directory PDF after logging in with your AAS member credentials.
By using the directory I agree that I understand all of the above terms and conditions.